| | |
| --- | --- |
| Seattle Ukulele Players Association | |
---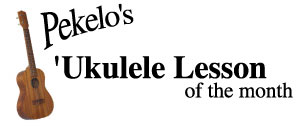 Aloha Kakou!
Pekelo's Ukulele Lesson of the Month can be found every other month in the Northwest Hawai'i Times available throughout Seattle. Each lesson has downloadable MP3 tracks available from this web site so that you can listen and play along.
Northwest Hawai'i Times is the only monthly newspaper in the Pacific Northwest Serving all who love Hawai'i. Providing important information, news and entertainment to the community, look for the new issue in your favorite local hangout during the first week of every month.
The online portion of Pekelo's Ukulele Lesson of the Month is hosted by the Seattle Ukulele Players Association, a Washington nonprofit corporation founded in 2003 to promote fellowship, entertainment, performance and education among ukulele enthusiasts in the Puget Sound region.
---
Lesson Iwakaluakumakolu (23) - January 2009
This lesson continues the series of mele by Helen Desha Beamer. The beauty of the waterfalls and mountains while on a Big Island trip inspired her to write Na Kuahiwi 'Elima, which refers to the five mountains she saw: Mauna Kea, mauna Loa, Hualalai, Kohala on Hawai'i island, and Haleakala on Maui.
---
Lesson Iwakaluakumalua (22) - October 2008
This lesson continues the series of mele by Helen Desha Beamer. She wrote Ke Ali'i Hulu Mamo for Princess Kahanu. The brilliant yellow feathers of the mamo and the 'o'o refer poetically to the very high rank of the ali'i.
---
Lesson Iwakaluakumakahi (21) - July 2008
Kimo Hula performed by Jesse Tinsley. Kimo Hula was written by Hellen D. Beamer for James "Kimo" Henderson and his lovely estate, Moanike'ala, in the uplands of Pi'ihonua above the town of Hilo.
---
Lesson Iwakalua (20) - April 2008
Here's a catchy song that's great for all year round - TGIF Hawaiian style! Paul Natto, DJ host from Las Vegas, wrote this on the slopes of St. Louis Heights.
---
Lesson 'Umikumaiwa (19) - February 2008
Our last mele ofour trip around the islands brings us to Oahu - The Gathering Place. This lively mele was composed in the 1930s to celebrate the installation of the first electric power geneating plan on the windward side. Kane'ohe is the largest of several communities along Kane'ohe Bay. Towering above are the 4000' Ka'olau Mountains that divide the island. In the Native language, kane'ohe is loosely translated as "Bamboo man."
---
Lesson 'Umikumawalu (18) - January 2008
Our tour around the islands takes us to a favorite destination - Hilo. This popular town has attracted missionaries, laborers, businesses, earthquakes and tidal waves! The rich cultural diversity of this Hawaiian plantation town resulted from the many ethnic groups that came as contract laborers.
---
Lesson 'Umikumahiku (17) - October 2007
Known as the Forbidden Island, Ni'ihau is encapsulated in its own mystique of time and tradition. There are no airports, hotels, cars, or shopping centers here. The isolation encouraged by its owners has preserved its people from the ills and encumbrances of modern civilization.
---
Lesson 'Umikumaono (16) - July 2007
This mele was written in the early 1900s and celebrates Naue's verdant beauty. Many of the noted areas in this mele are tourist attractions today.
---
Lesson 'Umikumalima (15) - May 2007
Kaho'olawe is the smallest of the 8 major islands, having been used at different times as a penal colony, ranch, forest reserve, and military training ground. This mele allows us to catch a glimpse of the proud island it once was with the cherished hinahina blossoms.
---
Lesson 'Umikumaha (14) - March 2007
This mele tells of the peaceful beauty unique to the island of Lanai. Lanai City is the only city, and there are still no traffic lights! At the height of its pineapple production, Lanai produced 90% of the pineapples consumed in the United States.
---
Lesson 'Umikumakolu (13) - January 2007
We continue with our trip around the islands. This mele celebrates Maui's first passenger train service in July 1879 and is still danced to today. It operated between the seaport town of Kahalui and the plantation town of Wailuku.
---
Lesson 'Umikumalua (12) - November 2006
With this lesson, we'll be starting a trip around the islands and playing a song from each one. Our first stop is Moloka'i with the Moloka'i Waltz.
---
Lesson 'Umikumakahi (11) - September 2006
This lesson shows how Pauoa Liko Ka Lehua is commonly played today. Notice how the song has changed from the early 1900s (see Lesson 10). Many older Hawaiian songs have typically evolved in a similar way. This month's lesson is courtesy of Sheryl Akaka who teaches music and slack key guitar at Highline Community College.
---
Lesson 'Umi (10) - July 2006
Let's take a step back in time to the early 1900s to see how 'ukulele chords were annotated. This old version of Pauoa Liko Ka Lehua is from an old instruction book. It shows how this mele was sung at the time.
---
Lesson 'Eiwa (9) - May 2006
Prince Ka'iulani was raised like a fairy tale princess. As a child, she lived in an enchanted Waikiki garden of huge banyan trees where peacocks roamed. Her birth was a cause for rejoicing in the family and in the nation, as she gave hope for continuation of the royal lineage.
---
Lesson Ewalu (8) - April 2006
Prince William Pitt Leleiohoku Kalahoolewa (1854-1877), was a prince of the Kingdom of Hawai'i and member of the reigning House of Kalakaua. He was the youngest brother of King David Kalakaua, Queen Lili'uokalani and Princess Miriam K. Likelike. An accomplished musician, he founded several royal choral societies that survive today including the Kawaiha'o Singing Club.
---
Lesson Ehiku (7) - March 2006
Princess Likelike is perhaps the least recognized of the royal composers, but her compositions are enjoyed by wide audiences today.
---
Lesson 'Eono (6) - February 2006
Queen Lili'oukalani was the most accomplished musician of her royal family. This hymn, Ke Aloha O Ka Haku, was written in March 1895 after she was imprisoned for alleged knowledge of a plot to return her to the throne.
---
Lesson 'Elima (5) - January 2006
This lesson begins a new series of songs from Na Lani 'Eha - The Royal Four. King David Kalakaua reigned over the Hawaiian Islands for 17 years. This month's lesson features one of his compositions, Koni Au I Ka Wai.
---
Lesson 'Eha (4) - October 2005
This lesson features a song composed by Kamuela for na pua o Hawai'i.
---
Lesson 'Ekolu (3) - July 2005
This lesson plays a traditional song, Pua Carnation by Charles King, and introduces a different style of strumming.
---
Lesson 'Elua (2) - May 2005
May's Ukulele Lesson of the Month has a traditional Hawaiian song, Green Rose Hula, which introduces three new chords.
---
Lesson 'Ekahi (1) - March 2005
March's Ukulele Lesson of the Month has the well known Hawaiian lullaby, Pupu Hinuhinu, which introduces three chords.